'The World is On Fire:' New NASA Satellite Photos Show Every Fire Burning on Earth
Image Credit: screenshot https://worldview.earthdata.nasa.gov/
Satellite imagery of
Earth
is cool because it gives us a different perspective of our home, but it can also be quite disturbing. This week on Twitter,
NASA
shared an image that shows not only brown and green continents, vast oceans, and swirling white clouds, but also red dots that show a large number of fires currently burning over the world. 
The red blobs are most concentrated in central Africa, but extend to parts of every other continent except for Antarctica. "The world is on fire," read
NASA's tweet
. In a
blog post
, the agency explained that the image was taken using the
Earth Observing System Data and Information System (EOSDIS) Worldview
, and that the areas that appear to be completely engulfed in flames were detected by thermal bands and are likely from agricultural burns. "The location, widespread nature, and number of fires suggest that these fires were deliberately set to manage land," NASA writes. "Farmers often use fire to return nutrients to the soil and to clear the ground of unwanted plants. While fire helps enhance crops and grasses for pasture, the fires also produce smoke that degrades air quality."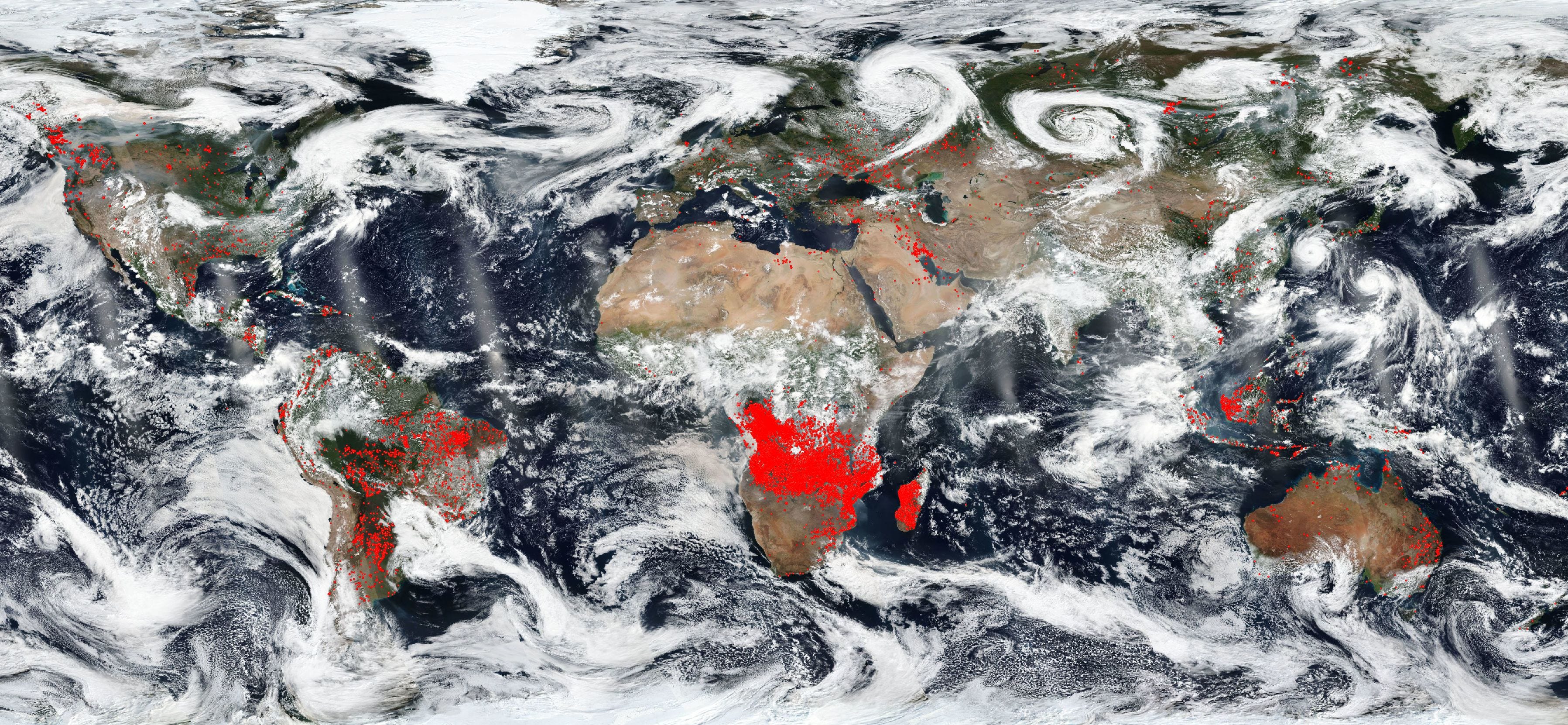 Other areas of red are likely wildfires, like the ones that continue to ravage parts of California. Northern Africa is largely untouched because there is not much to burn in the Sahara, and the poles are fine because of the low temperatures. NASA's Worldview website allows users to go back in time to see how the burning areas have changed over the course of the summer, and there is even a feature that will animate a set period of time so that you can watch the red dots accumulate. The site also tracks major events like volcano eruptions, iceberg splits, and typhoons. The purpose is obviously not to revel in the destruction of the Earth as seen from above, but there is something cool about seeing the planet from this perspective and being able to witness its changes over time while tracking their natural and human causes.