New NASA Images Reveal Saturn's Aurora, Which Is Too Incredible For the Naked Eye
Need a little something extra to get you over the hump this week? Well we have some eye candy for you, courtesy of NASA/ESA, that may literally be too amazing for your eyes to even process. Using the Hubble Space Telescope and its Space Telescope Imaging Spectrograph, astronomers spent seven months capturing images of Saturn's Aurora Borealis, which contains such a wide spectrum of light that not all of it is visible to the naked eye.

According to Science Alert, the main ring of Saturn's aurora is generated by solar winds, like the auroras here on Earth, but how other parts of it are formed is still a mystery. The new images were taken before and after the planet's summer solstice when the aurora at the northern hemisphere is the most visible, though only with the help of ultraviolet light because of Saturn's hydrogen rich atmosphere. Those photos were combined with others taken by the Cassini probe, which launched in 1997 and spent 20 years  studying the sixth planet from the sun before its "Grand Finale" in 2017. It's maybe a weird connection to make, but watching the aurora dance in the composite video of the event (below) is a little reminiscent of what Lumpy was watching in the The Star Wars Holiday Special. If you haven't seen it or don't remember it, don't bother going back to fact check us- it's probably not worth the two hours of your life.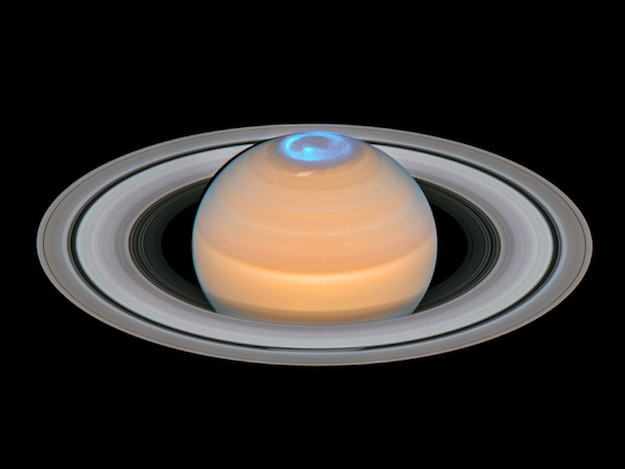 Credit: ESA/Hubble, NASA, A. Simon (GSFC) and the OPAL Team, J. DePasquale (STScI), L. Lamy (Observatoire de Paris)





"The variability of the auroras is influenced by both the solar wind and the rapid rotation of Saturn, which lasts only about 11 hours," the Hubble team said in a press release. "On top of this, the northern aurora displays two distinct peaks in brightness - at dawn and just before midnight. The latter peak, unreported before, seems specific to the interaction of the solar wind with the magnetosphere at Saturn's solstice." It could be a while before we get this good of a look at the event, so go full screen with the video above and soak it all in.