Elon Musk's Tesla Roadster and Starman Just Drove Past Mars
Composite from SpaceX Flickr + Pixabay
Back in February, SpaceX and Elon Musk launched a 2008 Tesla Roadster and its "astronaut" (a mannequin named Starman) into space aboard SpaceX's Falcon Heavy rocket. In an update via Twitter on Friday, the aerospace company announced that the car has now orbited beyond Mars.

The Roadster was launched into space as test cargo for the rocket because Elon Musk felt that the standard materials used for size/weight during flight tests by other companies were "extremely boring," adding that "anything boring is terrible, especially companies, so we decided to send something unusual, something that made us feel." Musk owns one of most popular and innovative tech companies in the world, so using one of his most coveted machines (buyers with reservations for the newer models have to wait until at least 2020) made total sense.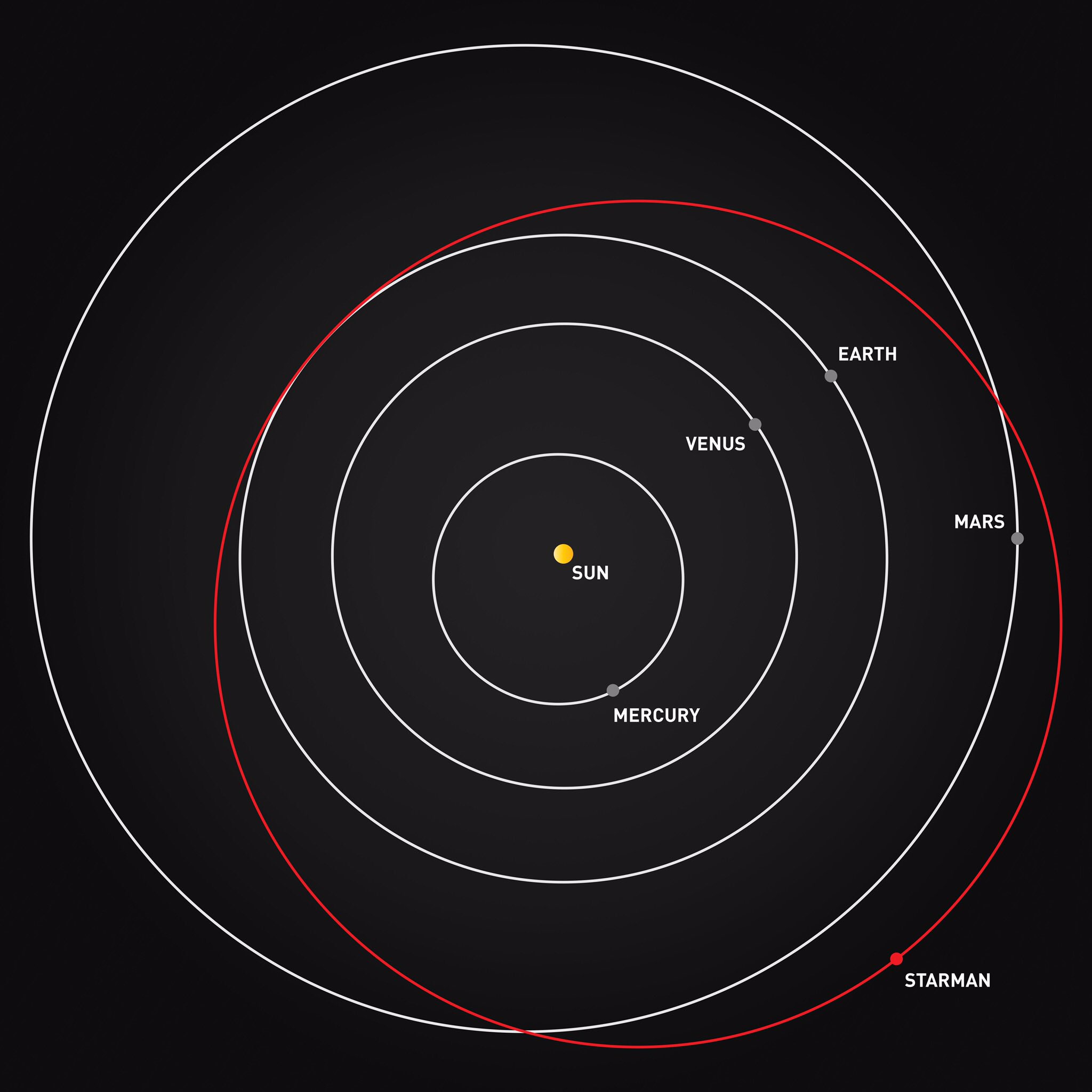 (via Twitter.com/SpaceX)

"Next stop, the restaurant at the end of the universe," SpaceX said in its tweet. USA Today points out that it is a reference to the Douglas Adams book, The Hitchhiker's Guide to the Galaxy, which Elon Musk lists as one of the books that shaped his life. Starman and the Roadster overshot their intended orbit not long after the launch, and there has been some back-and-forth online with astronomers doing the math to find out exactly where the payload will end up. The odds of Starman making it "to" Mars are not good at all, but experts say that he will at least get to cross the planet's orbit twice per 18.8-month trip around the Sun. "If this were a real Mars mission, this would be a disastrously wrong orbit and might not be recoverable," planetary astronomer Andy Rivkin told The Atlantic back in February when it became clear that SpaceX's calculations were off. "But since this may have been 'put it up to full throttle and let's see what this baby can do,' it's not a problem."