Satellite Captures Image of Martian Ice Rink in Korolev Crater
ESA/DLR/FU Berlin, CC BY-SA 3.0 IGO
Mars may not have Christmas trees or tinsel, but
a recent photo from the
Mars
Express orbiter has shown that it 
does 
have an 82-kilometer-wide ice rink in the form of Korolev Crater. The crater is estimated to have a mile-deep layer of water ice on its floor, which remains frozen throughout the year thanks to the crater's structure. Though the photos are bright white, there's no snow in the crater—just the ice.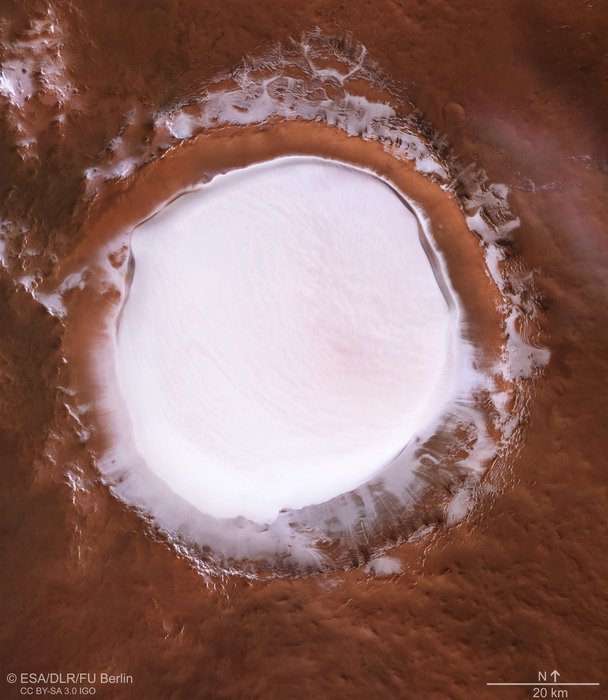 ESA/DLR/FU Berlin,
CC BY-SA 3.0 IGO
Deposits of Martian ice are
one of the reasons scientists are hopeful about colonizing the planet
, though colonists probably wouldn't journey all the way to Korolev Crater to dig up chunks of it (it's located in the northern hemisphere of the planet, relatively close to the polar regions). Still, the crater is host to an interesting phenomenon that allows the ice within to stay thick all year round. According to a press announcement by the ESA:
"The very deepest parts of Korolev crater...act as a natural cold trap: the air moving over the deposit of ice cools down and sinks, creating a layer of cold air that sits directly above the ice itself. Behaving as a shield, this layer helps the ice remain stable and stops it from heating up and disappearing."
The new photo of the crater is actually a composite of five different photos, which were taken as the Mars Express satellite passed over it during different orbits. By combining these images, scientists can get a much more detailed picture of the crater and its surroundings. Like some other Martian hardware (including the rover 
Opportunity),
Mars Express has been on its mission for a while now—about fifteen years, in fact.
If you're looking to get your fill of Martian landscapes in stunning detail, we recommend checking out
this
NASA
video that gives you a virtual tour of Jezero Crater, the landing site for the Mars 2020 rover.
Image Source: ESA/DLR/FU Berlin,
CC BY-SA 3.0 IGO