Watch a Black Hole Warp Reality in NASA's Stunning New Visualization
NASA's Goddard Space Flight Center/Jeremy Schnittman
Yesterday NASA released a breathtaking new visualization of a black hole in motion.


"Until very recently, these visualizations were limited to our imagination and computer programs," said Jeremy Schnittman, the NASA Goddard scientist who created this visualization. "I never thought that it would be possible to see a real black hole."


He is, of course, referring to the April 10th publication of the first-ever photograph of a supermassive black hole in the galaxy Messier 87. Using custom software at NASA Goddard, Schnittman animated a gorgeous, three-dimensional view of this extreme and little-understood astrophysical phenomenon.


The most arresting perspective is viewed from the side of the black hole, where its extreme gravity bends and stretches light photons like a rubber band.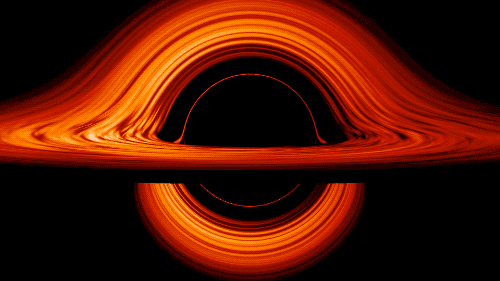 Credit: NASA's Goddard Space Flight Center/Jeremy Schnittman


The "halo" revolving around the black hole is called the accretion disc. The accretion disc is a cloud of stellar gas and debris orbiting what's called the event horizon – the tipping point of no return.


As you look at it from this parallel perspective, the accretion disc appears to arch both up and under the black hole. This is due to the black hole's blinding gravitational force bending the light on the far side of the disc: the upper layer of the far side of the disc appearing overhead, and the underbelly of the disc being "lensed," causing it to appear underneath.



Credit: NASA's Goddard Space Flight Center/Jeremy Schnittman


You'll also notice that the image is brighter on the left side than it is on the right. This is called "Doppler beaming." The glowing gas on the left side is accelerating towards us in its orbit at such high speeds that relativity makes it appear brighter. On the right side of the disc, the glowing gas is moving away from us at that same speed and thus appears dimmer.


That thin inner band of red-orange is the photon ring, which is the last vestige of visible light that narrowly escaped "the shadow" – the core of the black hole.


Perhaps the most impressive part of this simulation is the ability to visually witness these quantum forces at play, altering the way it appears based on the angle from which you view it – quite literally warping reality.


As Schnittman says, "Simulations and movies like these really help us visualize what Einstein meant when he said that gravity warps the fabric of space and time."


You can see every angle in GIFs and images here.